The next topic in my series of Wedding tips is Wedding Ceremony Tips and I know you'll find some insights.
The moment of truth. This is the moment when your knees become weak and your heart race like a horse. This is the moment you've been waiting for, to walk towards your Love and see your family and friends while wearing the most expensive and most gorgeous dress you've ever worn. While you do these steps towards your Love, your mind will race, your thoughts will wander and your whole day will become a blur after the end of the Ceremony…
Unless! You've remember to make it memorable and meaningful with my tops tips.
---
Stop and Take it all in
Whether you are standing at the Church's Entrance or at the end of the aisle … STOP.
Allow everyone to see you, but most importantly, allow your Love to search with their eyes.
Breath in slowly. Walk only after you have looked around and engraved this moment in time. You picked this Ceremony spot because it spoke to you when you saw it so by all means, breath in the scenery, the sounds and the smells of the place you will say "I do.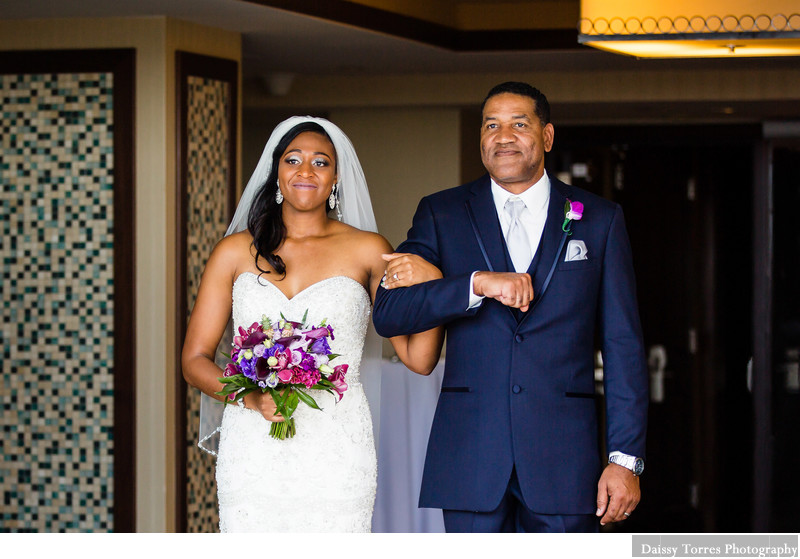 Pause & Enjoy the moment.
♥
Share your moment
If you've picked someone to walk you down the aisle with you, I am sure they are important to you. Being one or both of your parents or even someone close, you've chosen them because they've impacted your life and you want to share this moment with them. Therefore, share a moment. A look, a small word, a silent "thank you" will remind them how much you appreciate them and the reason they are such a huge part of your life.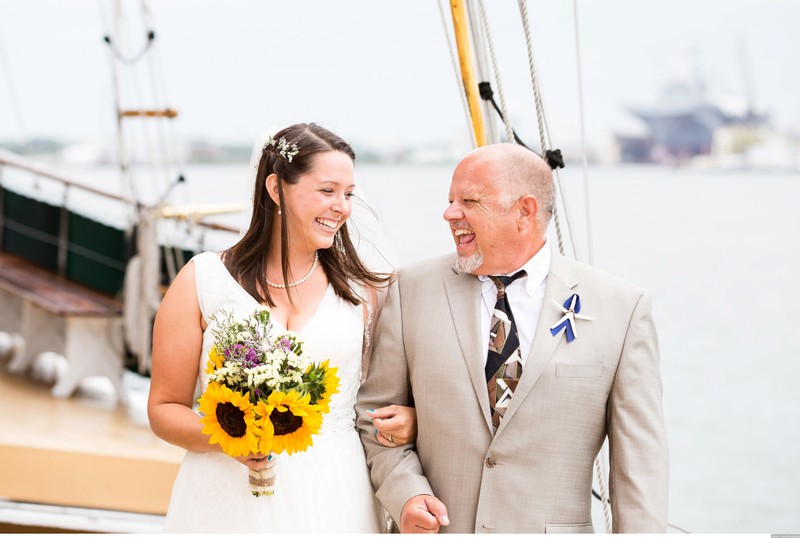 Bride & Dad having a moment before walking down the aisle.
♥
Chin forward and down
So much to think about during this short walk. Will I fall? Is my dress ok? Am I walking too fast? Too slow? With all that excitement and worry, please remember to do these.
Walk with your chin forward and down, shoulders back and straight ahead as you smile to your family and friends.
When you carry your bouquet, hold it by the very top of the stem. Don't tuck your elbows and simply rest them by your hips.
Keep the bouquet away from your body, tilted slightly forward and by "belly button height". This will ensure the top of your dress is visible and your bouquet shows nicely in photographs.
Make your steps long and with grace and do not swing side to side.
Take your time but do not go slower than a leisure walk.
Wave like a queen .. I am kidding. Don't do this.
Notice how the bride below is holding her bouquet. You are not a florist so don't hold your bouquet by the end of the stems. Also, don't tilt it to the side.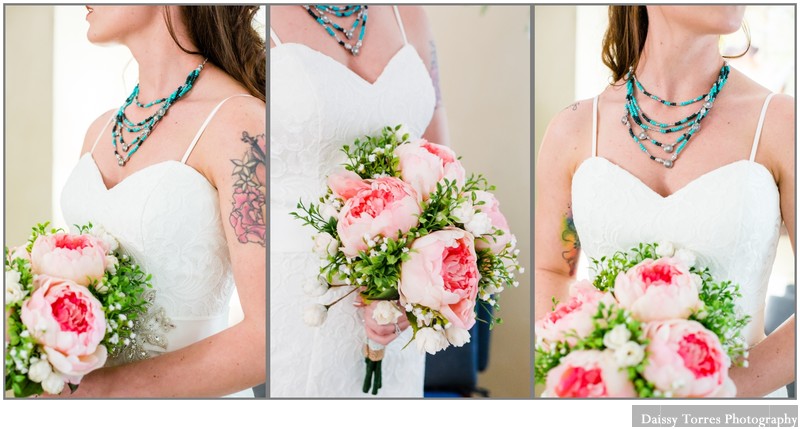 Proper way to hold a bouquet. Bust showing, mid-section covered by flowers.
♥
Choose the right Wedding Officiant
This is such an important part of your ceremony. Having the right Officiant/Minister can put you at ease and make your Ceremony memorable for you and your guests. It is crucial you trust and feel comfortable with them, you need to agree with their views and the way they conduct a ceremony. When you interview them, ask questions and feel free to share your requests.
My favorite Wedding Officiants are engaging but don't drag the ceremony. When you find your perfect Officiant, if they accept to step aside for your first kiss, you have a winner! This guarantees only the two of you are in the photo without the Minister's head in the way.
Rev. Cory Newell from Rev. Cory Newell and Associates, Wedding Officiants at www.hamptonroadsweddingpastor.com shared with me some right on point advise that I'd love to share with you.

"Choosing an officiant is incredible. They are the voice of your love story and carry the vibe and theme of your celebration from the start. Select one that reflects your personality and will drip your love story throughout the entire experience. -That way - when the first toast takes place, everyone really is cheering you on, your story, and your future.

-It is very important to - make sure they are legit to sign the marriage license! Virginia has crazy rules that exclude more than allow. It's not likely one who hasn't done one will be able to.

Ask questions and get what you want and need.

But most of all, have the best wedding ever! Cheers to love-- Pastor Cory."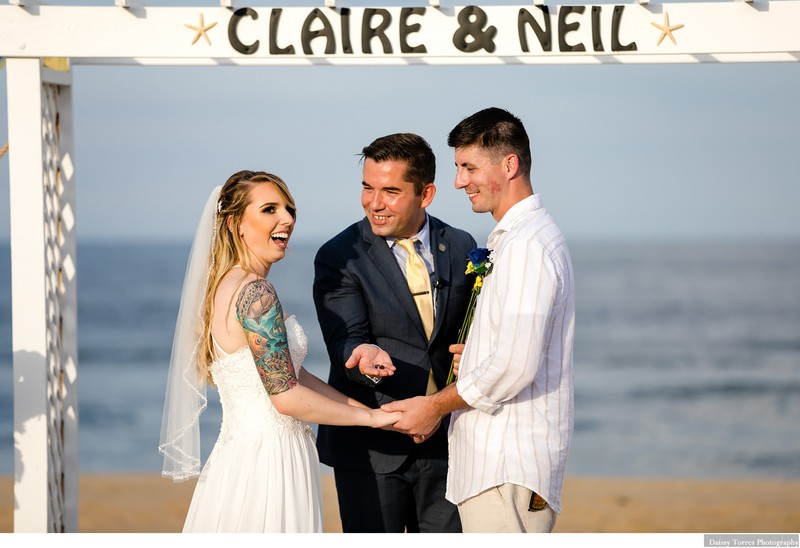 An engaging officiant, makes for a memorable ceremony
♥
Say it like you mean it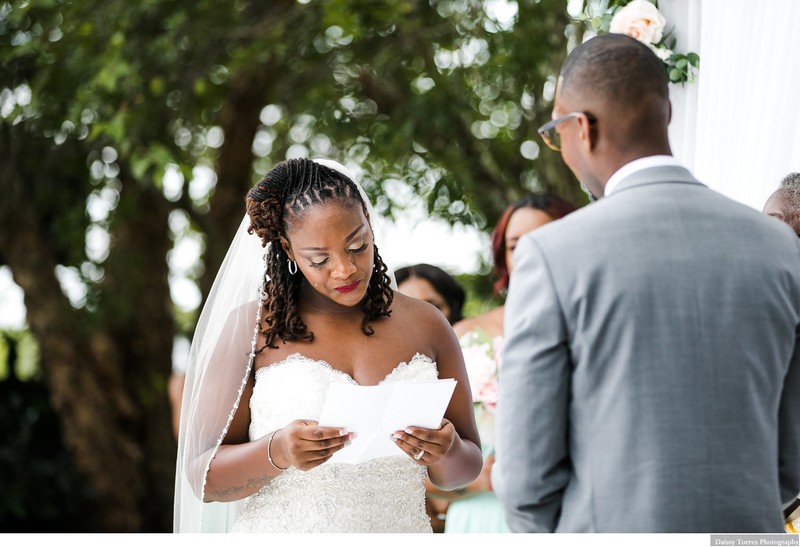 Bride's tear as she reads her vows to her love
Wedding vows can be nerve-raking (or nerve-wracking if you prefer – both are correct by the way).
If you are introvert, it is tempting to simply repeat the Officiant's words and share your vow that way but I am here to tell you, don't. It doesn't matter how soft spoken, nervous or what a ball of mess you get, writing your own vows is one of the most powerful things you can share and do during your Wedding Ceremony. It doesn't have to be long, or full of jokes/stories/insert blank here, it has to come from the heart and the only person who needs to hear you is your Love. Say "I love you" only but let it come from you.
Besides, these little pieces of papers make a treasure that your generations to come will love.
Great vows can make you cry or laugh and you will remember them forever.
♥
Say no to the sand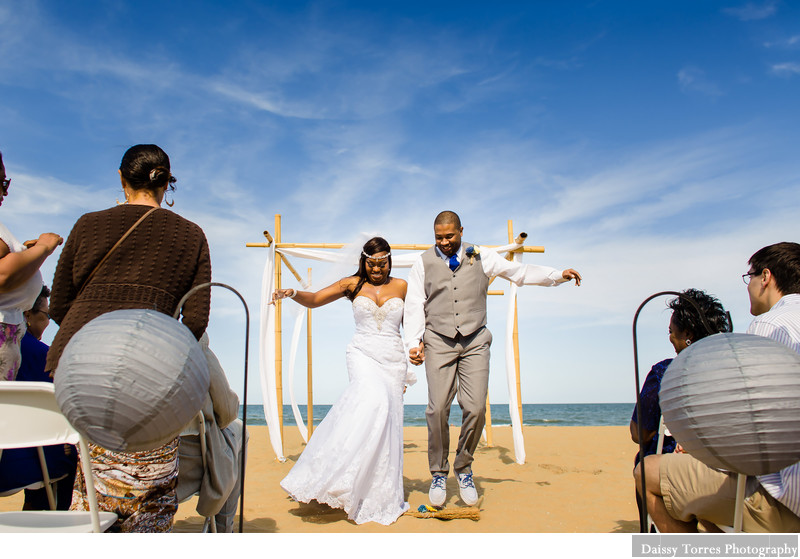 Virginia Beach Oceanfront Wedding - Jumping The Broom Tradition
Okay, this one may be a little bit harsh but here it goes. Skip traditions that mean nothing to you. Just because they are out there doesn't mean you have to do them. If you really can't stand the sand, why do a sand tradition?! Just because they come in pretty coordinating colors? Because good mighty Pinterest said so?
Only keep Ceremony traditions that are true to who you are as a couple. Communion, Jumping the Broom, and important readings by those you love are so much more meaningful than hiding booze in a box for the first fight. Of course, unless you like booze and you know you'll fight soon to drink it all.
A meaningful tradition makes for a meaningful ceremony.
♥
Smooch it for real
This is your first KISS!! Come ON! It is not a "Goodbye, see you later tonight" kind of kiss. This is a "We just got married, and it was awesome, and you shall give me my first marriage breath to celebrate it" kind of kiss!
So smooch for real. Once and twice. Make it count.
A peck in the lips for a First Kiss can get you no First Kiss' picture at all!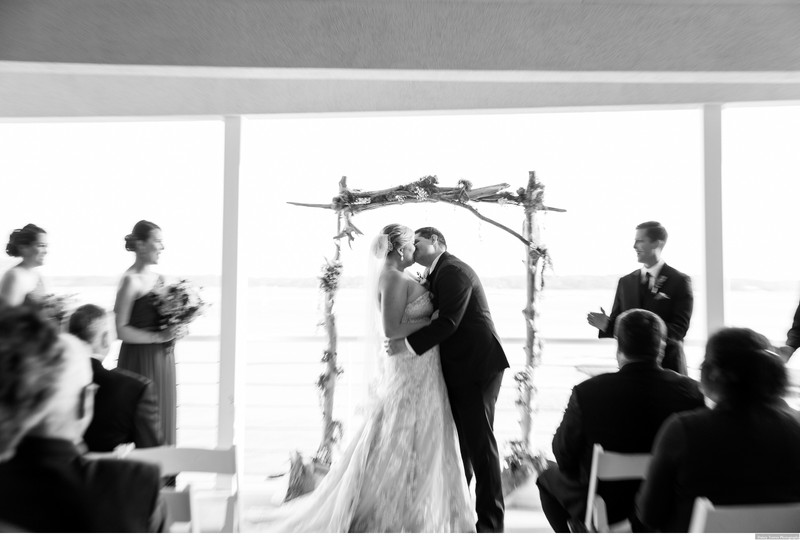 Image effect is on purpose
♥
Celebrate it!
The moment is finally here and you have been shaking all this time. When the Minister finally says the words, you can breath again. You have been pronounced "MARRIED!" Let it all out and enjoy that moment. You've spent the money, the time and the energy making sure your Ceremony moment was a special one and it sure was, so Celebrate It!
♥
Walk out like you own it
I always love this time. You are walking out with a new outfit, the married kind. Enjoy it by giving a kiss to your mother, hugging your father or high five-ing* your Groomsman. Interact with those you love the most as you walk out a newly made Forever Union. How awesome is that!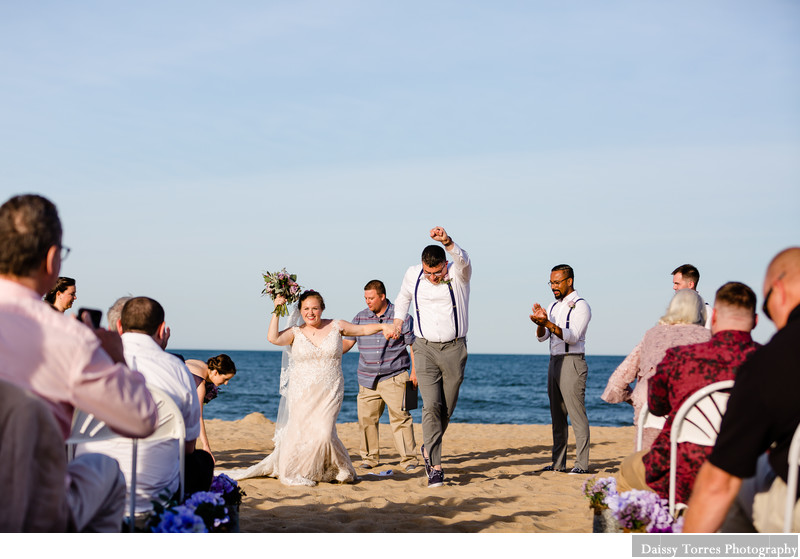 Be a star!
♥
Have a moment with your Love
As you walk out, have a moment with the person you just said "I'll choose you over and over every day". You've had one of the most exciting times of your life together, you've started a journey like no other, so kiss!
Make this moment about what you've just went trough, make it about memories.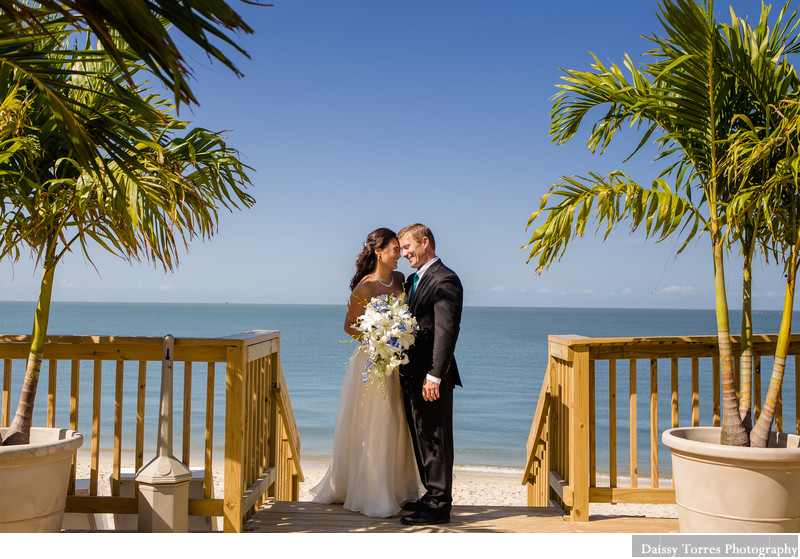 Moments after the ceremony.
♥
Have a moment with those you love
Set up an area where you will wait for your family and bridal party to meet you. Allow them to love you and congratulate you, it is simply beautiful to witness.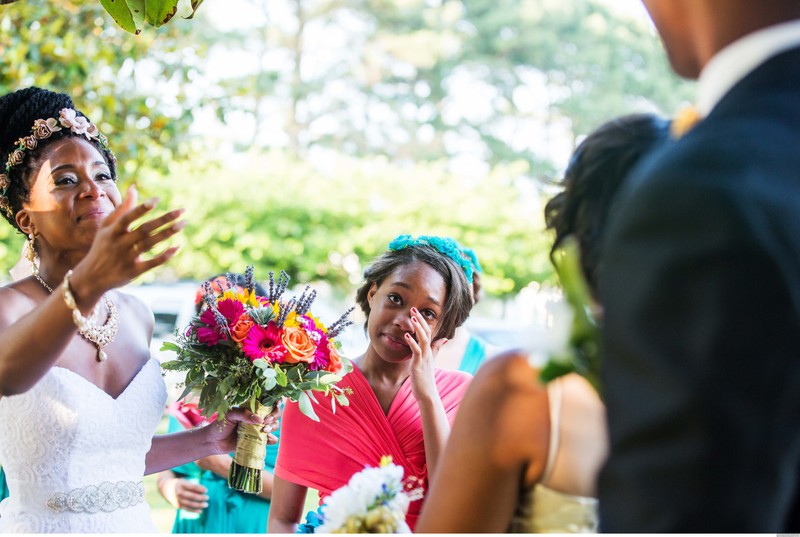 The perfect moment when Mom & Dad arrives.
I hope these eleven tips convince you to prepare for a ceremony that is about the two of you. One you will forever remember.