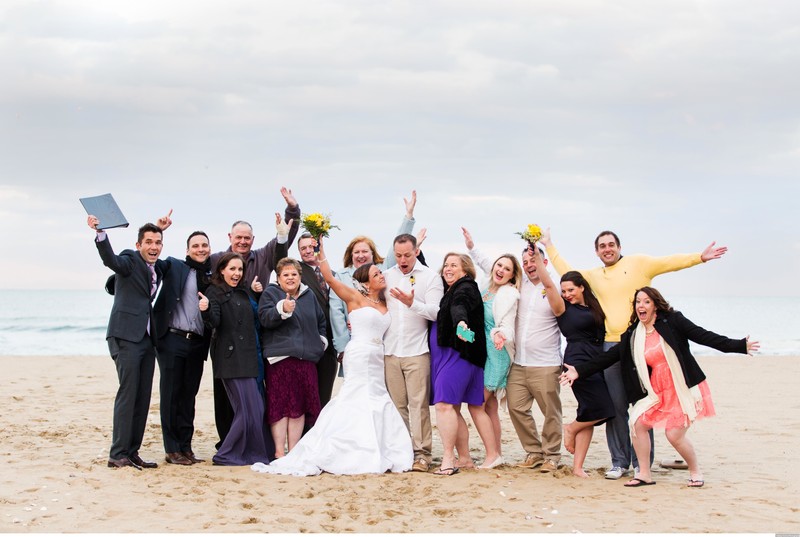 Oh, family formals. Can't live with them, can't live without them. This is the time dreaded by most. Stand there and smile for a good 60 minutes, which may feel like 4 hours, while hungry and ready to party.
Unfortunately, this is by far one of the most important pictures we can do. These are the photos your children will see, and therefore the children of your children. If you take care of these images well enough, perhaps 100 years from now even more generations will enjoy them.
As a rule of thumb, each family grouping takes 5-7 minutes to complete. This means that if your cocktail hour is one hour. 30 minutes are used for family formals and 20 minutes for couple's portraits. With 30 minutes, you have a total of 6 groupings. That is not enough time! Below are some tips to help you make the right decisions.
Get as much as you can done before ceremony
Regardless if you are seeing each other or not before the ceremony, it is crucial you have photos done before the ceremony. If you are not having a first look, you can have the photos you would like with your family only, while your love has theirs before the ceremony too.
Example:
1st hour:
You with mom
You with dad
You with mom and dad
You with mom, dad, and siblings
You with siblings
You with bridal party (separate and as a group)
2nd hour
Your Love with mom
Your Love with dad
Your Love with mom and dad
Your Love with mom, dad, and siblings
Your Love with siblings
Your Love with bridal party (separate and as a group)
This means that after the ceremony, all you will need to do is the pictures where both of you are present. The below list can last 30 minutes, so if you have a one hour cocktail hour, it will leave you with 30 minutes for couple's portraits. Time can change depending on your family's cooperation, though.
Example:
You and your Love with both sets of parents
You and your Love with all grandparents
You and your Love with both extended families
You and your Love with full bridal party
Talk to your family before hand
Ask them if there is any one photo they would absolutely like to have during this time. Notice I used the singular for photo. You want to use this time wisely, so letting your family request multiple photos, or even worse, request right on the spot can turn the family formals into an hour long rushed affair. Therefore, one or two very important pictures per each side of the family should be enough since most of the time the photos they'd like we would have taken anyways.
Make your list ahead
On the day of, I go by the list we have already arranged and the reason why you will ask the parents in advance. As soon as you book, you will receive a questionnaire that includes this crucial part.
During the wedding day, everything is hectic and you will forget important people or important groupings you wanted. Therefore, we do our family formals list in advanced. Please remember, this is not the time to have the picture with your college friends or the cat. If this is a photo you'd frame, then it should be done at this time.
Have a "Cowboy/girl" on your hands
This person will corral your family member. They know who is who and can point out if someone is missing by the time we start. One of the most time consuming things during family formals is looking for Aunt Becky who thought she could go get a drink but we needed her with us. For divorced and/or blended families, we will make groupings that way each parent has what they would like.
Family Formals Location
It is best to choose an outdoor area for the most natural and relaxed portraits. If getting married in a Church, consider doing the most important photos in church but understand a Church's timeline may conflict with yours and your time may be cut short.
Order of pictures
Once I receive your list, an order will be made. Generally it is grandparents first, followed by flower girl and/or ring bearer, parents, and then bridal party. I will build my list in a way that only the people around have to move while you and your Love stay in the same spot. This helps us with photo consistency and with time.
As we call each member, they will go to your sides equally. From there, they should keep in mind:
Family should have no purses, cellphones or wallets in pockets.
Men should check their boutonnieres to make sure it still looks correct.
Bouquets should be nicely on midsection and slightly tilted forward.
To make sure family members do not step on your dress during Family Formals, simply lift the dress and allow them to tuck their feet under it, then drop the dress.
Men should not raise their arms to other's shoulders because this opens up their jacket and they look like a super hero ready to change clothes.
Everyone must be touching! One way of another, the family should be standing sort of hugging the couple with their bodies, while keeping their hands or bodies touching others.
Men are on the end, except Groom of course, and with their hand in pocket.
Allow your family to be themselves
I will certainly take your family heirloom images, including a full body and close up. However, also allow your family to be themselves. This is how you will remember them! Is Dad a goofball and at some point making jokes? Is Grandma grumpy just because? Believe me, in the future you will miss them for who they are.
Photos with every guest
No, at least not during family formals. You can absolutely go around table to table during the reception time to get photograph with the guests but experience has shown me that using your family formals time for guest's photos is a disaster. However, if you have a very small wedding in a large area, like the beach, you could get away with one photo right after the ceremony like this.
Budget your timeline wisely
Family Formals time is the most exhausting time of the wedding. Your lips will hurt because of all the smile, you will be hungry, and you will wish all could be done in a minute. However, we'll have fun! I'll joke around and look for the little moments in between the posing and the smiles. Come prepared to enjoy yourselves!