Getting Ready time! Let's face it, this is probably the first time your mind and soul starts realizing you are getting married! After all the preparing and planning, the day is finally here. You wake up early, think you got it all and then … BAM disaster (how dramatic of me). Maybe not disaster, but definitely the "things did not go as I thought they would go" category.
For that reason, I've started a series to help you out on those little details that you may forget during this glorious day.
So let's get started on these top tips to have the most gorgeous wedding images.
Wear pretty while Getting Ready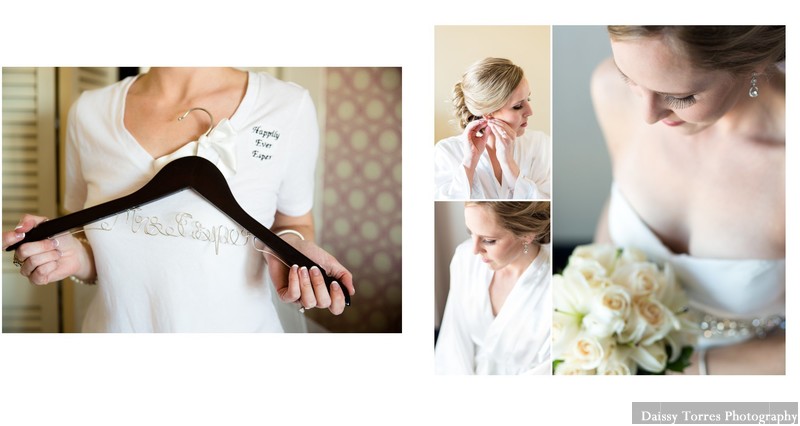 Sweatpants and a stained shirt do not make pretty pictures so getting a simple white shirt or a beautiful kimono will make you look like a star, like the one Hillary wore for their wedding. This will make sure that you are looking your best.
Also, make sure you and your Bridesmaids wear a strapless bra the day of, so there are no marks on your shoulders. These marks can take a long time to dissipate and walking down the aisle with them it's not pretty.
For the Grooms and Groomsmen, wear a clean shirt with no logos.
Prepare your Details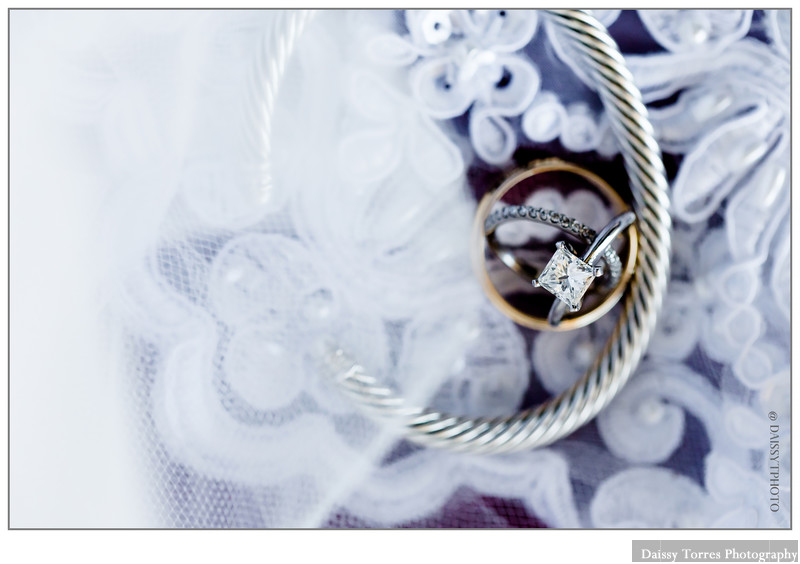 Before you start hair and make up, prepare all your details and separate them, placing them in a bag, basket or container. When I arrive this will be the first thing I will photograph after I do introductions. Making sure you have everything set up is a guarantee that all your lovely details will be taken care of.
a. Make sure to take tags off everything. This includes jewelry, veil, dress, shoes etc.
b. It is always nice to bring your Wedding Invitation or Save the Dates to be included in your details photographs.
c. Have your dress on a pretty hanger. Plastic clear hangers do not make pretty dress pictures. If your dress is strapless, they look gorgeous in a dress form, which you can find online for around $35, while custom bridal hangers can be around $15. If stored in a plastic bag, take it off but if it arrives in a white store bag, you may leave it there as it will be easy to take out.
d. Have your Love's ring, your Engagement and Wedding ring with you. This allows me to photograph them together but if you forget, I may ask for them during the reception time.
For the Grooms, set aside your shoes, tie, watch, cologne, etc. Keep everything in a clean area and away from the hustle of the day. Have the area close to the window light organized and with no clutter.
Help your Makeup & Hair artist
Makeup and Hair Artists are just that and therefore they need plenty of time to work on their canvas. Help them by giving them a schedule that is flexible so they can do their best work on you.
a. Don't be last. It is a good idea to do your makeup/hair in between your bridesmaids so that way you can enjoy watching your girls get their hair and makeup done.
b. Schedule your prep with so much time in advance, you can sit afterwards with them and relax before the big moment of getting your dress on. Example, if your Ceremony is at 6pm, don't schedule to start at 4pm. That is not enough time!
c. ALWAYS, as long as it is possible, get your makeup done by the window light. Natural light will make sure it is flawless indoors and outdoors. If no window, make sure to let your Makeup Artist know as they can bring their own perfect lighting.
d. If you are getting all glamoured up in a salon, make sure to take in consideration travel time and any delays to and from the venue or hotel.
Here some tips from my Preferred Makeup and Hair Artists.
These girls know what they are talking about!
Don't ignore their advice.
Hair Tip:
Ashley from Beach Bridal Artistry recommends a good 30 to 40 min per Bridal member (This includes bridesmaids and mothers) and one hour for the bride with the smart one hour cushion time. You can see her beautiful work at https://www.beachbridalartistry.com/ and follow her on social media @beachbridalartistry
Makeup Tip:
Carly from Make up by Vega recommends to do Skin prep!
"Hydrated skin is best for a beautiful look that will last! Drinking lots of water at lease 72 hours before your wedding day is crucial. Makeup does not stay well on dry skin or skin that is irritated. Also, avoid heavy drinking before your special day and avoid going to bed with makeup on your face. Try a gentle face scrub to help remove impurities several days before your special day." You can see Carly's flawless work at http://www.makeupbyvega.com and follow her on social media @makeupbyvega
For the Grooms, be careful when you shave. Take a long shower and take your time shaving. If you will have a Barber come in, have him/her arrive early. This will guarantee a smooth shave and a nice pampered time.
Putting that dress on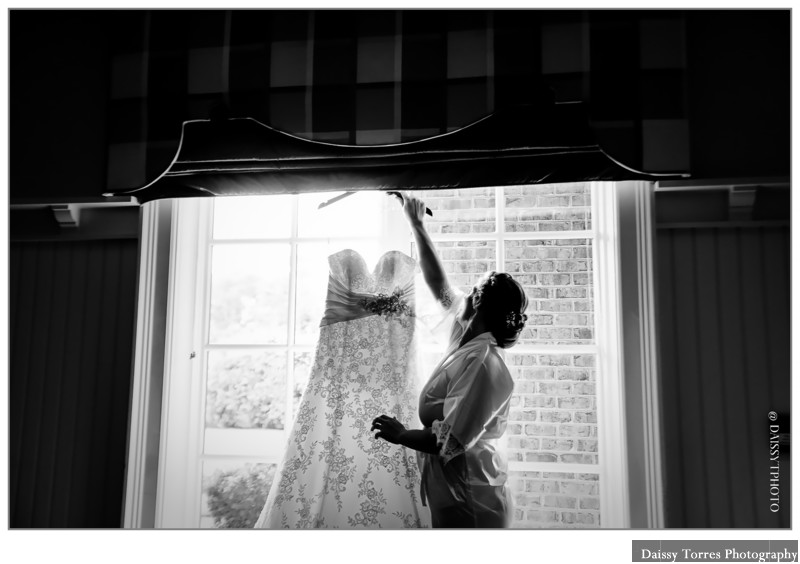 Oh the moment of truth! I love this part because you finally realize things are becoming real! This is a moment of excitement, delight, tears and laughter. Make sure you enjoy it to the fullest. If you budget well for your prep time, this moment will be full of memories.
a. Use a clean and clutter free area. You don't want to take pictures in an area where someone left their empty cup or their bra laying somewhere!
b. Get dressed in front of a window with plenty of floor space. Yes, natural light is best. Putting your dress in front of a window guarantees that nice soft light will be your friend. This will give you a beautiful glow.
c. Have only a small amount people during this process. Keep it simple. Mom, Maid of Honor and bridesmaids should be the top amount. Having 10+ people around for this does not make for pretty pictures.
d. Decide in advanced who will help you put on the dress and who will help you place the veil, if applicable. If you have a veil, let mom do this for you. Even if she does not, allow her to start and have your back up "know it all gal" close by to finish placing it.
e. If you are using a bustled dress, schedule plenty of time for it. They take a considerable amount of time to put on.
Do not rush out!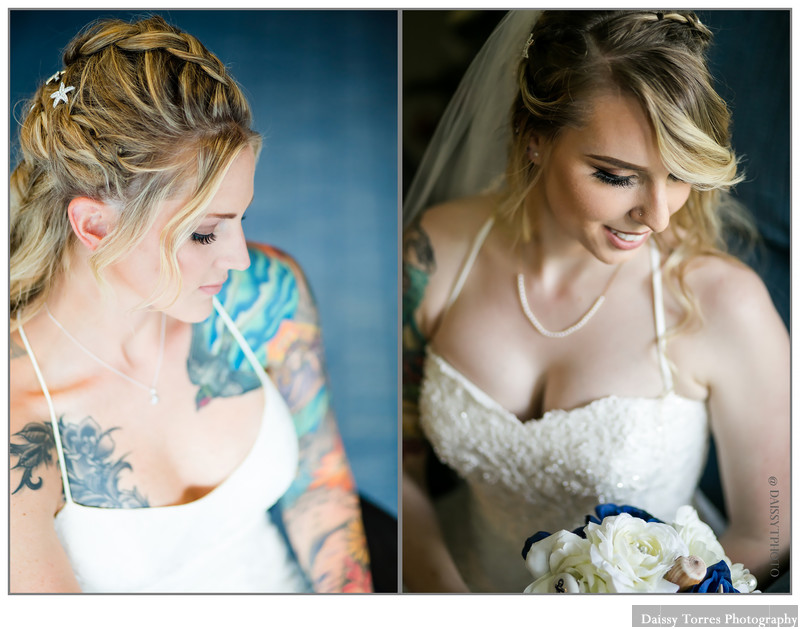 After you are dressed and your beautiful self all ready, it's time for your close up portraits. If you have budgeted time for bridal portraits, we'll do this here too. However, at least 10 minutes of close up portraits needs to be scheduled, so make sure to do so. There is nothing like a closeup portrait of you on your wedding day. Even if you are not a classic bride, your parents may be and this may be the perfect gift print for them.
Grooms:
Do not rush either! Although Grooms and Groomsmen can be ready within 20 minutes, it is best for you to take your time and set time aside to sit, relax and joke with your group of close ones. Therefore, make sure you have set up plenty of time for this.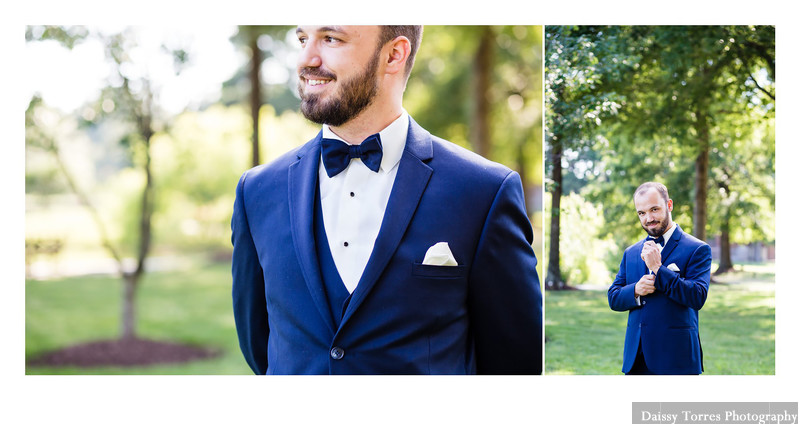 Besides these Top 5 Tips, here are some easy and to the point tips you need to know.
Don't skip meals. Designate someone to bring breakfast and snacks for the whole wedding party.
Have an Emergency Kit. This kit will include anything from lip balm, extra buttons, sewing kit, gum, etc. A more in depth on what to have in this wedding kit can be at Wedding Planning Tips - Wedding Day Emergency Kit.
Go to the bathroom before putting on your dress. Believe me; they are not easy to maneuver.
Watch out that tan. I know tanning sounds like a great idea but don't do it right before the wedding. Make sure you are building a tan at least two weeks before your wedding. You did noticed I wrote "building" right?
Put the shoes on yourself! It is beautiful when a bride puts on her own shoes, that being while wearing her dress or her bridal kimono.